Solar energy - a boost for the mini dairy plants
On Tuesday August 9th I traveled to Mu a few km from Oury, not far from Boromo, with the president of the National Union of Mini-Dairies and an animal husbandry technician. We were to visit the Fulani community of the village. They had been preparing for several years (participation in literacy courses in Fulfulde and providing a building) for the start of a mini dairy plant.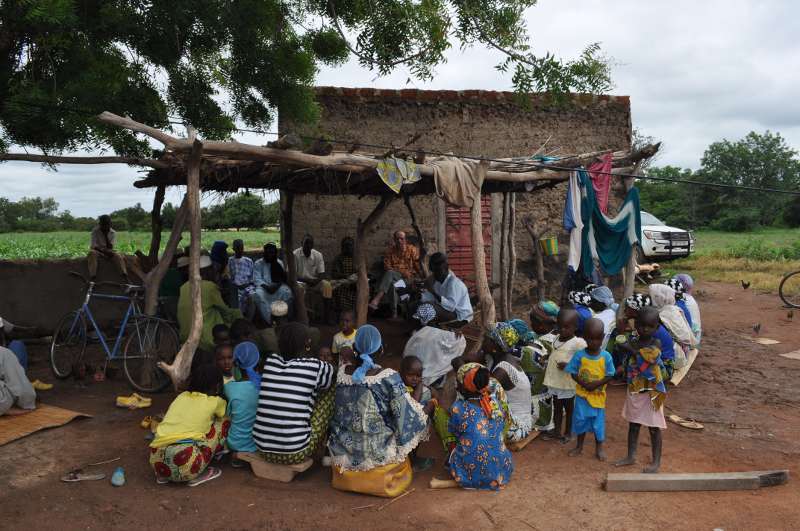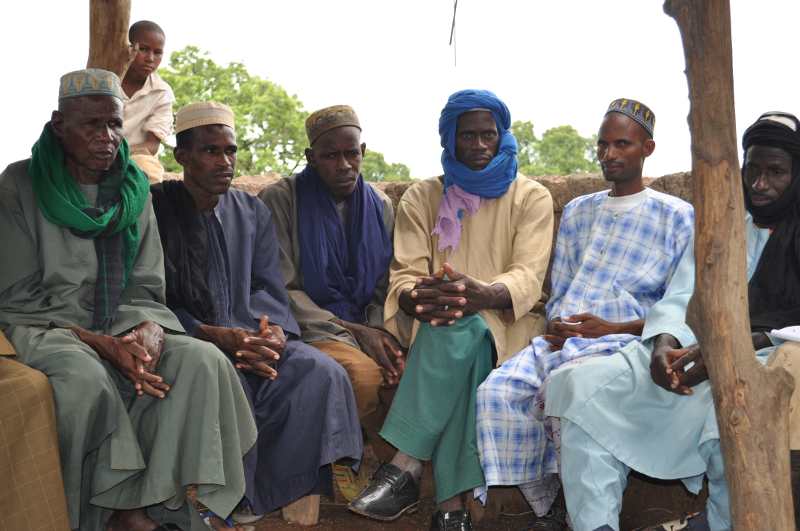 At our arrival we were welcomed by men and women involved in the dairy trade A few elders, who will watch over the herds that are to provide milk for the mini-dairy Through a friend and rice farmer living in Sourou, but originating from Oury, I had been in touch with this Fulani community. The inhabitants quickly told me that they wanted to receive help for starting a milk processing plant in their village. I then wondered whether the Oury market (and even adding the one in Siby a bit farther away) would suffice for making a mini dairy viable. A freezer would already require an energy source of gas at a cost of 6000 CFA francs per month. It would then be necessary to travel to Boromo (a distance of about 40 km) for a new gas tank every 3 weeks.
I then came to think about a "solar" powered freezer. But the kind of solar freezers I had come across were not really solar! They run on a lead battery of 12 Volt, connected to a photo- voltaic solar panel. But the battery - if it is not an oversize one - has to be renewed every year.
It was then, while surfing on the web, that I discovered that genuine solar freezers are available on the market. These freezers are directly plugged into a solar panel, without any batteries involved. They have a double advantage: they are sufficiently insulated to be operative only in the daytime, when the sun is out, and then switch off during the night. Moreover, in case there would be 3 or 4 days without sunshine, an incorporated liquid will "store the cold temperature" , to put it in simple terms.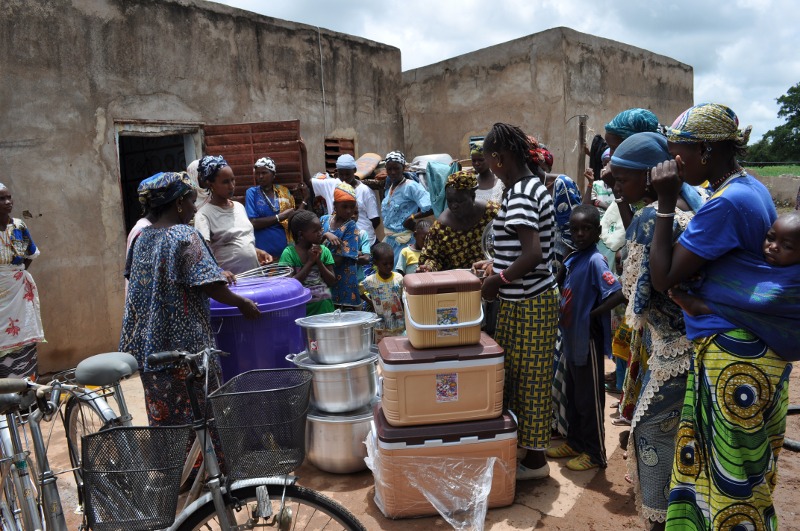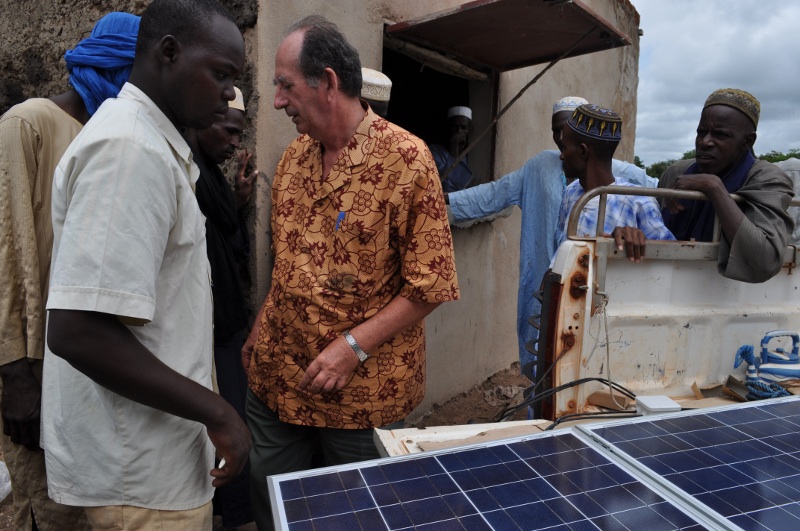 The women who will be running the mini-dairy are eager to discover the equipment we have brought Solar panels of 60 Watt x 3 = 180 Watt As the lifetime of a solar panel is 25 years (or more, since the panel does not die out entirely but maintains 80 % of its energy capacity), such freezers would be able to keep running for 25 years without any additional expense. Therefore this kind of freezer is altogether attractive for people or communities in the "outback", i.e. without access to the national power grid.
This is the experiment that we inaugurated last Tuesday with a 150 litre freezer. But our supplier/ manufacturer also makes other sizes, of 270 and 410 litres. We are at present investigating the possibility of becoming "distributors" for this sort of equipment, which could mean that we could import at a convenient price. Readers of this abc Burkina newsletter, who would be interested in the project are asked to come forward. If the demand is sizeable, we could start ordering an initial container of such freezers.
Those who would like to financially support this solar option for mini-dairies are welcome! Please let us know.
At the time of finishing this newsletter I receive news from Guinea. And not good ones. There is a dispute between herders and farmers. Already the tone of the Guinea Presse Info article is frightening: Radio France International confirms the Konianké gangs have massacred cattle!
But the comments are even more alarming: "the only thing the Fulani community can do at present is to fight. (It must) take to arms (If not) we will end up losing all our possessions !"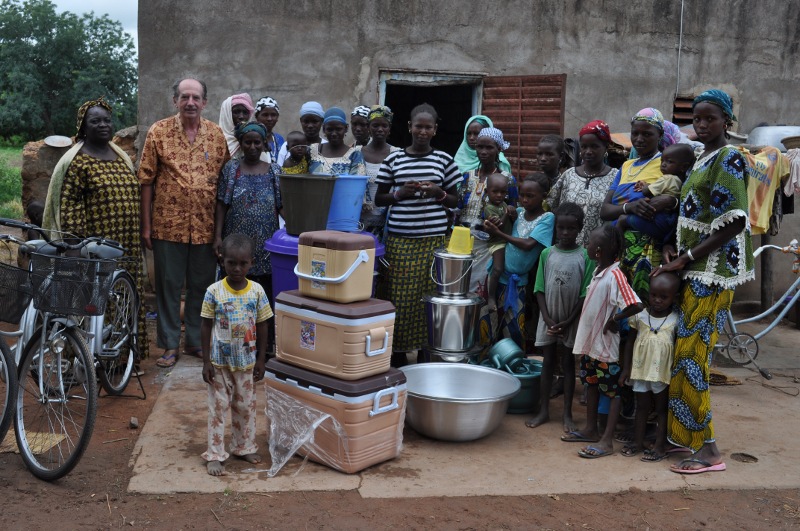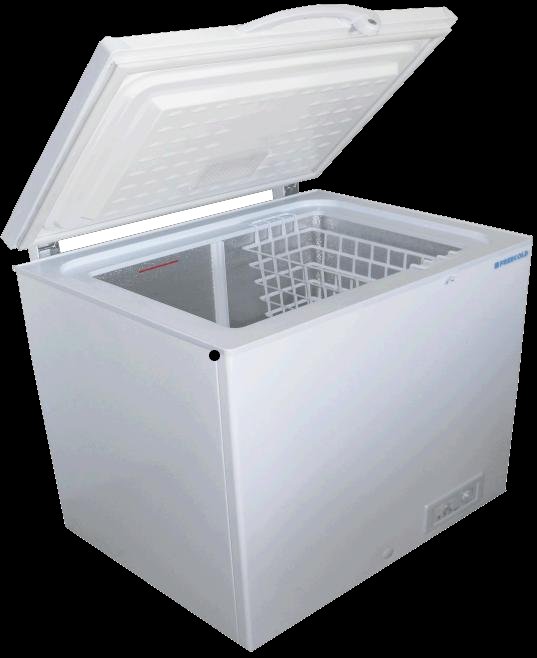 The women wanted yet another picture with the new equipment.Also note the bicycles which will be used for delivering yoghurt, dégué and gapal to the neighbouring villages. Our solar freezer (into which a liquid cooling agent will be incorporated) We are not safe in Burkina either from such a deterioration of the social climate. In fact I am convinced that the running of a small mini dairy by a Fulani community is an efficient agent for social integration. First because of the literacy courses organized, as a condition for starting the dairy plant and secondly because of the daily contacts it generates.
We must not let conflicts develop. Let us rather try and spurn alliances between herders and farmers and undertake every other action that would facilitate the social integration of the Fulani herders. Solar energy which would boost the milk trade and hence social integration, would definitely play a worthwhile part in such a strategy.
Koudougou, August 13th 2010
Maurice Oudet
Director, SEDELAN